After a period of negotiation and technical exchange, the V Angel Roll Forming Machine were transported to the USA as requested by the customer. The type of machine that the customer requested is a V-shaped corrugated steel sheet production line.
1. Vietsteel successfully cooperates with customers in the USA
The V Angle Roll Forming Machine are one of the important equipment in the steel production process. Designed to Roofing Roll Forming Machine forms, these lines ensure high quality and precision of the final product.
The installation and delivery of the operation of Roofing roll forming machine – v angle profile to a customer in the USA by Vietsteel demonstrates the company's dedication and professionalism in meeting customer needs. This is definitely an important step to enhance Vietsteel's position in the international market.
2. How about V-Angel Roll Forming Machine?
V angle roll forming machine is a specific type of roll forming machine that is designed to create panels with a V-shaped profile. This type of machine is commonly used in the construction industry for creating metal roofing and siding panels, as well as for other applications that require panels with a unique V-shaped profile.
The V angle roll forming machine works by feeding a metal coil through a series of rollers that gradually shape the metal into the desired profile. The machine may include additional components, such as cutting blades or punching tools, to create specific features or cut the panel to the desired length.
One of the benefits of using a V angle roll forming machine is that it can produce panels with a very precise and consistent shape. This is important for applications where the panels need to fit together tightly and provide a reliable seal against weather and other environmental factors.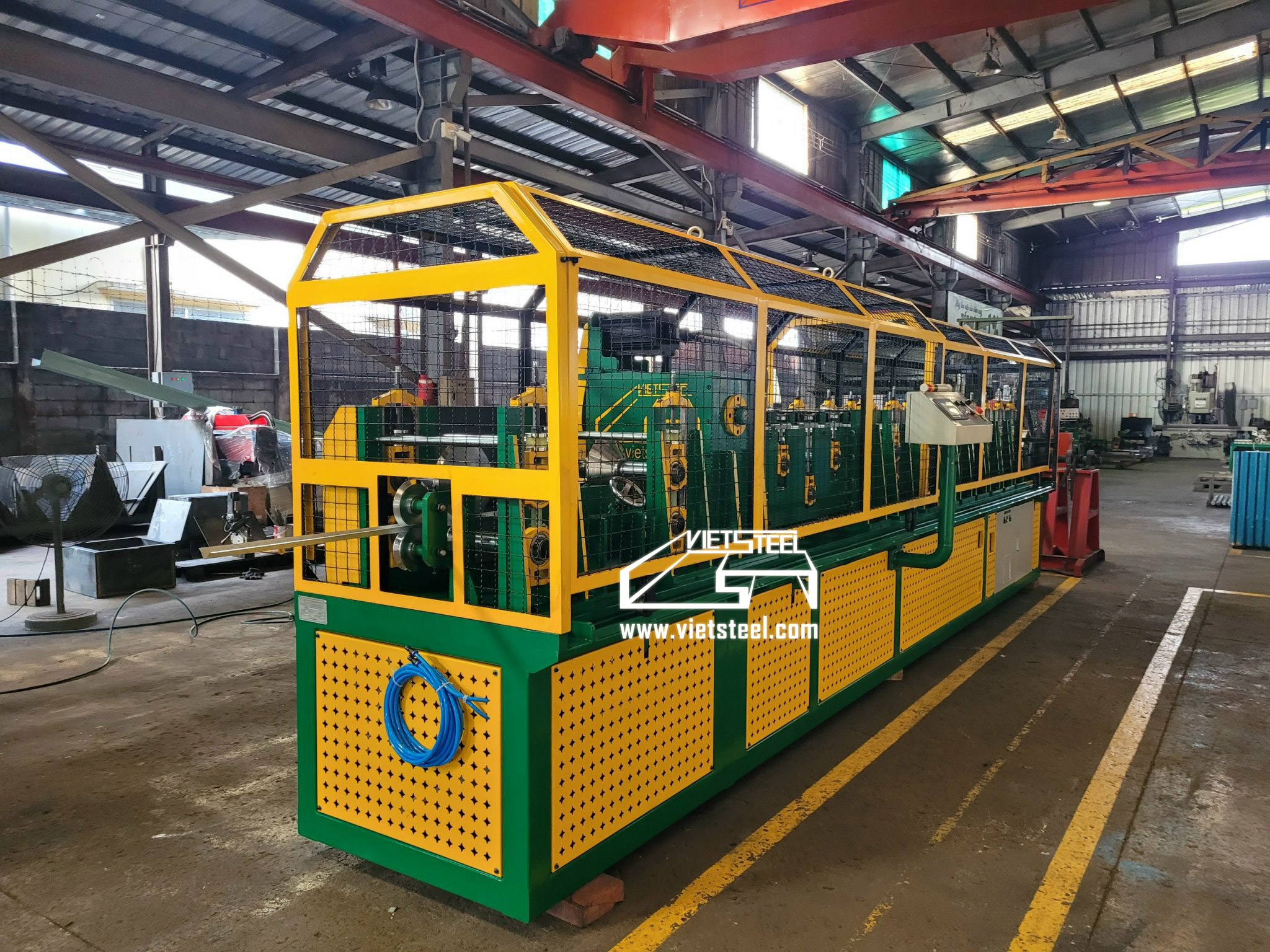 Another benefit of using a V angle roll forming machine is that it can be highly automated and can operate at high speeds, allowing for efficient and cost-effective production. Some V angel roll forming machines may also include features such as computerized controls, automatic lubrication systems, and other advanced features that help to optimize performance and reduce downtime.
Overall, the V angle roll forming machine is a versatile and reliable piece of equipment that can be used for a wide range of applications in the construction industry and other industries that require high-quality metal panels with a V-shaped profile.
3. Specifications for V Angle Roll Forming Machine
| | |
| --- | --- |
| ITEMS | TECHNICAL DATA |
| Electric requirement | 240v/3ph/60Hz |
| Power | Transmission motor: 11 kW Cutting (servo motor): 5.5 kW |
| Weight of machine | 5 tons |
| Dimension (L x W x H) | 5.0m x 0.7m x 1.3m |
| Forming speed | 60 meters/minute |
| Forming rollers stations | 12 |
| Transmission system | Electric motor and gear box |
| Cutting technology | Rotary cutting by servo motor |
| Control system | PLC, HMI automatic programmable |
| Material thickness | 0.45-0.75mm |
| Material width | 60-177mm |
| Size ( 5 sizes ) | 33×24/51 x37/59×48/72×62/99x75mm |
| Chaning size | by rollers |
| No. of shear blades | 05 sets |
| Material Yield Strength | G450 – 550mpa |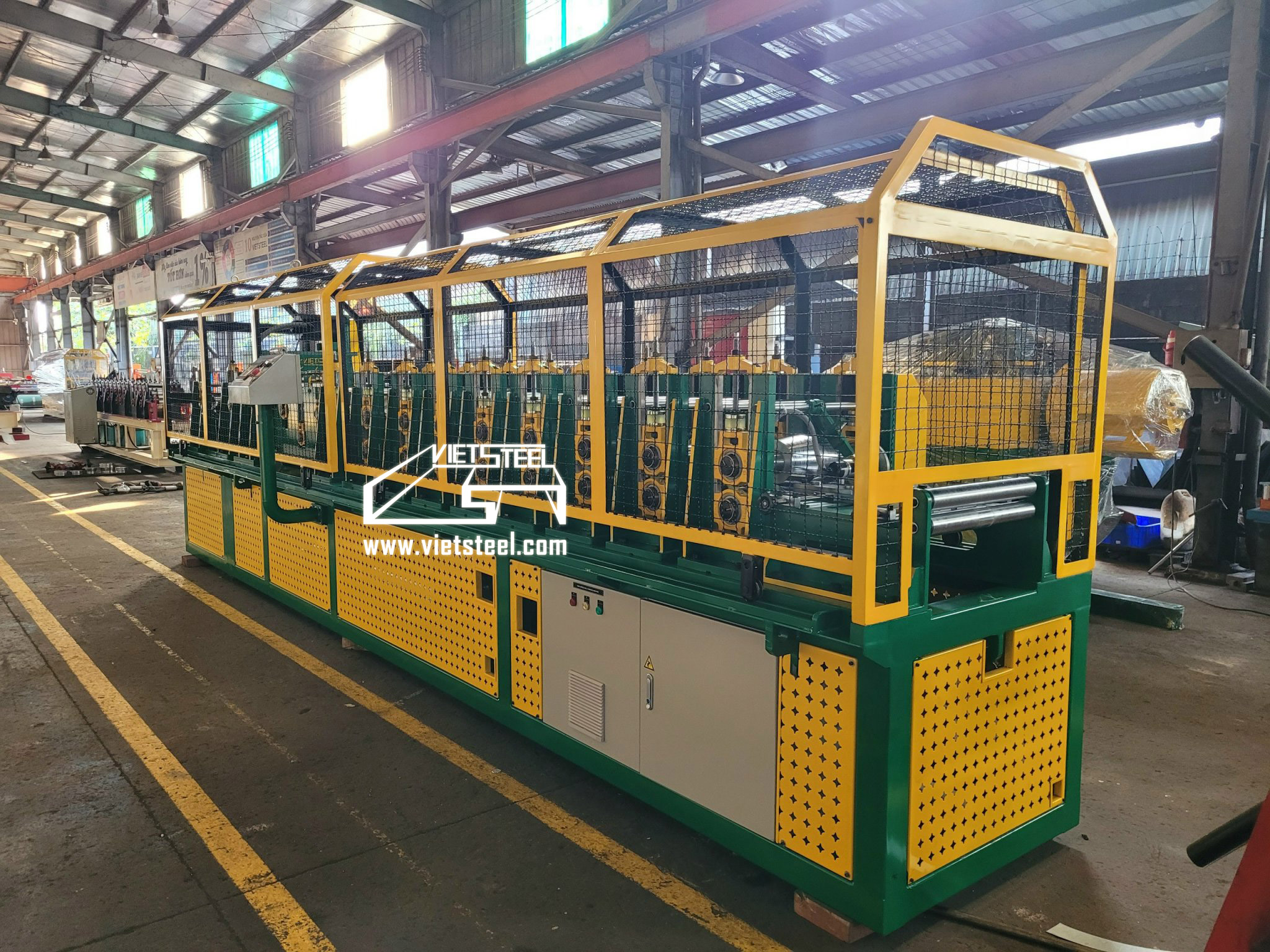 4. Common characteristics of V Angle roll forming machines
The machine is equipped with various advanced components such as a control panel, encoder, cutting die, rollers, and a hydraulic system with cooling capabilities. Some of the key features include:
Automatic length cutting: The machine is designed to automatically cut the material into any length that has been pre-set. This feature ensures that the cutting process is accurate and consistent every time.
Pre-set quantity alarm: The machine is also designed to sound an alarm when the pre-set quantity has been reached. This feature helps to prevent overproduction or underproduction of the material.
Encoder feedback: The machine is equipped with an encoder that provides signal feedback, indicating the length of the product. This feedback helps to ensure that the length of the material is consistent throughout the production process.
CNC precision rollers: The rollers are made of alloy steel and fabricated using CNC precision machines. They are also hard chromium plated, which makes them durable and resistant to wear and tear.
SKD11 steel cutting die: The cutting die is made of SKD11 steel and fabricated using CNC machines. It has undergone thermal treatment, which makes it hard and durable with a hardness rating of 55-60HRC.
Hydraulic system with cooling: The machine is equipped with a hydraulic system that has a cooling feature. This feature enables the machine to operate continuously for up to 20-22 hours per day without overheating.
Overall, the machine is designed to provide a high level of precision and efficiency in the production process, ensuring that the material is cut to the desired length with consistency and accuracy.
5. Quotation for V Angle Roll Forming Machine
VIETSTEEL is known as a leading expert in Vietnam in designing, manufacturing and installing all lines of roll forming machine, purlin roll forming machine, Ctruss bar rolling machine, slitting machine, etc. We provide to the market 4 lines of double deck roll forming machines with 8 different models at reasonable prices. Our products come with 1-year warranty and lifetime maintenance.
Our staff are more than 140 experienced employees, and we have 2 factories (18,000m2), a special processing workshop (2,000m2) with the latest technology for CNC milling, CNC turning, wire cutting… We preserve our quality for all mechanical parts of the machine, we ensure the machine to run steadily for 15 years.
For a more detailed quotation, please contact hotline +84 906 898 860 or send information to email vietsteel@vietsteel.com.