How are you today?
It is a great honor for Vietsteel to be present of you at the Build Expo 2023 exhibition, and we are eagerly looking forward to it. We are thrilled to invite our customers to visit our booth and explore our offerings on 28th & 29th, 2023, at NRG Park Center, located at 1 Fannin St, Houston, TX 77053.
We are excited to announce that from June to July 2023, there will be a fantastic opportunity to participate in the Houston Build Expo and enjoy discounts on roll forming machines. Don't miss out on this exciting event! Visit our Booth #349 exclusively at the Houston Build Expo. Over 200 exhibitors will be present!
If you're interested in participating in the Houston Build Expo, now is the perfect time to register. By registering or requesting a quotation, please provide your full name and email/phone number. You'll have access to special discounts on roll forming machines from June to July 2023. These machines are widely used in the construction industry for shaping metal sheets.
Are you among the over 7,000 pre-registered attendees for the Houston Build Expo? If not, register now for your complimentary ticket to the largest building and construction show in Texas.
Building success together! Join here on June 28th and 29th at NRG Park Center, where you can connect with their industry-leading professionals and discover their exceptional financial and advisory services. Don't miss this opportunity to collaborate and unlock new possibilities for your projects.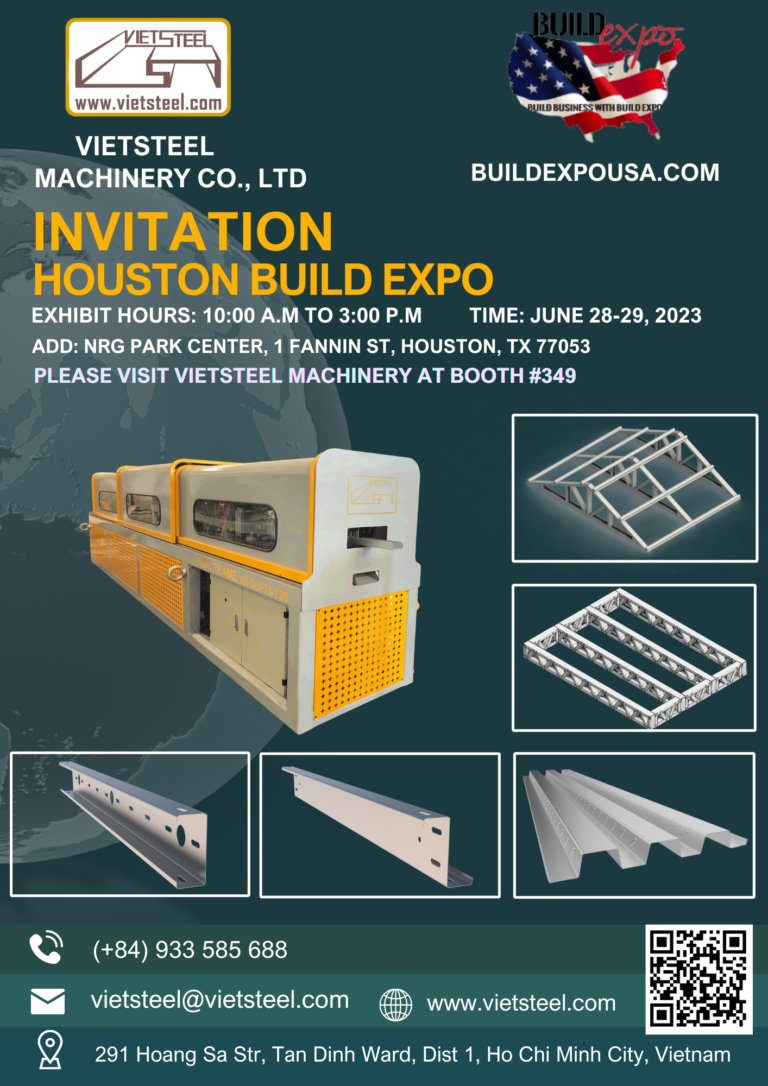 To register for the Houston Build Expo or request a quotation for roll forming machines, we encourage you to visit Booth #349 during the event's exhibition. Alternatively, you can get in touch with the event organizers directly via the following form link: https://forms.gle/HP732YzzW2CSqVBk9 or scan the QR code provided in the invitation. They will provide you with detailed information about the registration process, negotiations, quotations, and the discounts available on roll forming machines.
To buy roll forming machine from VIETSTEEL, you can contact them through the hotline number +84 906 898 860 or send an email to vietsteel@vietsteel.com to receive detailed pricing, promotion and product advice. The purchase of roll forming machine depends on your needs and requirements, so you can provide additional information about the size, material, and volume of the product you need to produce to receive the best support from VIETSTEEL.
For more information: Registering to the participate in Houston Build Expo or requesting a quotation from June to July, you will be Discount On Roll Forming Machines For Special Event From June to July, 2023.