What happen in October 2023 with Vietsteel Machinery?
During October, we'll be introduce and showcase our best-selling products. These items are currently creating a buzz in the international market.
Get your discount 5% when you message your Full name & email/phone number, registering to the participate requesting a quotation, you will be Discount On Roll Forming Machines For ThisTime.
Get the best possible customer opportunities by participating in October 2023!
Let go with Vietsteel Machinery discover the market leaders in roll forming machines with our handpicked selection of best-sellers, each recognized for superior functionality and advanced features.
The flexibility of your system, referred to as baskets, trunking, or cable ladders, makes it suitable for various applications, especially for running large quantities of data cables overhead or under the floor.
Cable trays are components of support systems for power, transmission system by gear motor, Punching system is Hydraulic cylinder. A cable tray system supports and protects both power and signal cables and facilitates upgrading, expanding, reconfiguring, or relocating networks. Tray systems are alternatives to wireways and electrical conduit, which completely enclose cables.
The coupled with ease of operation, cost-effectiveness, and space efficiency, makes it an attractive option for manufacturers. It's impressive that my cable tray roll formers have reached global markets showcasing not only quality but international appeal.
Your commitment to customization, tailoring solutions based on customers' drawings, tolerance, and budget, is customer-focused. The promise of professional one-to-one service that adapts to diverse needs is a testament to your dedication.
Vietsteel Machinery not only prioritizes functionality and efficiency but also understands and meets the specific needs of its customers. The assurance of obtaining perfectly functional profiles adds a touch of reliability to your offerings.
Depending on our client's needs, we can customize our perforated cable tray roll forming machines.
Components Cable Tray Line Forming Machine
Uncoiler 1 set
Guiding Device 1 set
Punching system 1 set
Pre-cutting 1 set
Roll conveyor 1 set
Roll forming machine 1 set
Hydraulic Cutting system 1 set
Run-out product 1 set
Specifications Cable Tray Roll Forming Machine
Power: 22kW
Weight of machine: 30 tons
Dimension: 14×2.0x1.8m
Forming Speed: 1-6mpm
Roller station: 24
Material width: 0.8-2.0mm
The CZ Purlin Roll Forming Machine is a powerhouse for producing structural components crucial for building support. In essence, C purlins and z purlins serve as horizontal beams providing structural integrity to buildings. The roll former for purlins is a versatile machine capable of producing different-sized purlins, also known as Interchangeable purlin roll forming machine or z purlin making machine.
The applications of C & Z purlins are diverse, making them indispensable in various construction scenarios:
Industrial Construction: Providing structural support in industrial settings.
Hall and Warehouse Construction: Crucial for constructing large spaces like halls and warehouses.
Extension Construction and Renovation: Used in extending existing structures or renovation projects.
Agricultural Projects: Essential in constructing structures for agricultural purposes.
The CZ Purlin Roll Forming Machine thus plays a vital role in the construction industry, contributing to the stability and functionality of diverse building projects. The adaptability to produce different sizes makes it a valuable asset for builders and manufacturers alike.
With advancements in the field, we now have automatic quick-change C and Z steel purlin roll forming machines. Notably, our purlin machine is designed for swift changes between roll forming processes, specifically tailored for crafting Z-shaped steel.
On the flip side, channel sections without flange stiffeners are often referred to as U shapes. In the realm of steel building construction, secondary members such as purlins (for the roof) and girts (for the wall) are frequently crafted from cold-formed steel C, Z, or U sections, The highlight here – Vietsteel can manufacture Z, C, along with a Purlin Roll Forming Machine, available in various sizes with incredibly precise punching options.
Uncoiler -> Guide -> Straighten -> Punching -> Roll Forming Machine -> Run out product
This design addresses structural strength issues, speed differences, and deviations. The control system is a seamless blend of industrial PLC and automatic programmable electrical components, complemented by a user-friendly human-computer interaction interface.
In terms of machine design capacity for the Purlin Roll Forming Machine:
Raw material thickness: 1.2-3.2mm
Input material width: 200-600mm
Raw material yield limit: G300 – G550MPA
Production line working speed: 12-16 meters/min
Machine power:22 kW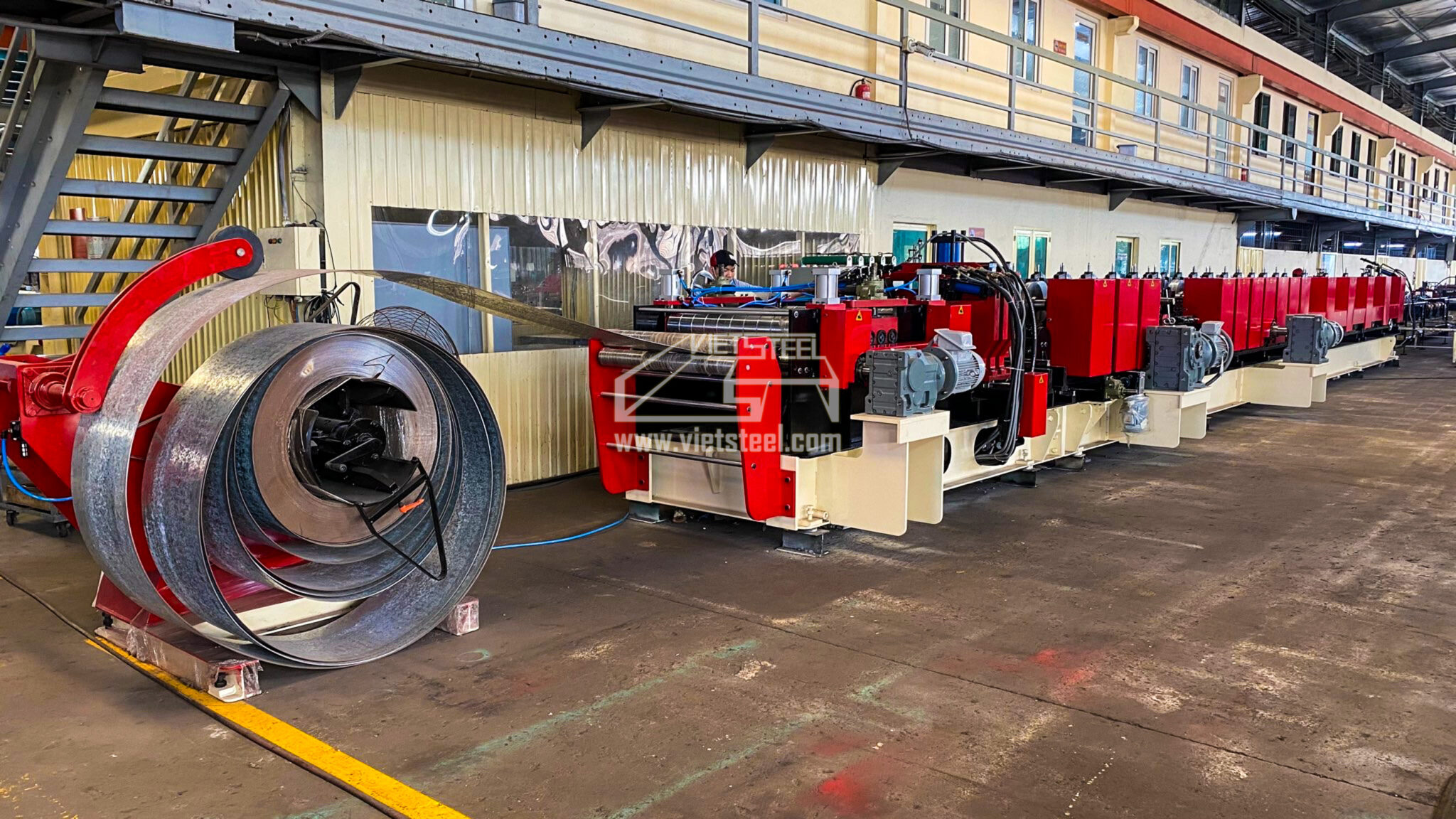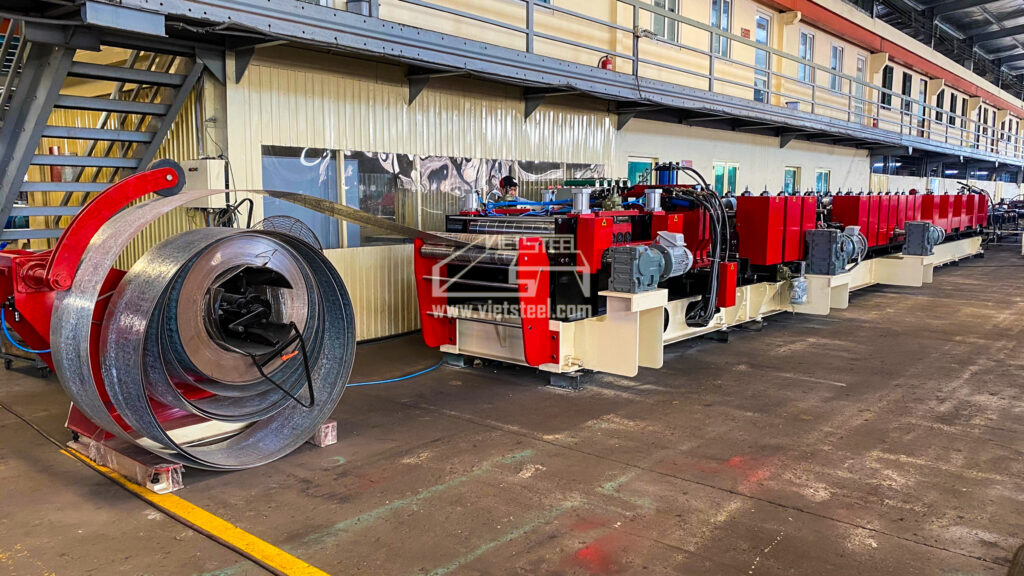 A floor deck stands out as a modern solution for shaping the floor using metal plates, offering a departure from traditional scaffolding and formwork. Crafted from galvanized steel, the floor deck features a welded wave pattern on hollow steel beams with either a circular or triangular cross-section.
The operational process of a floor deck is ingeniously simple. Metal floor decking is laid down and securely fastened to a supporting structure, utilizing either a composite or non-composite deck. Subsequently, structural concrete is poured onto the metal decking, seamlessly becoming an integral part of the floor's structural system.
In terms of its practical applications, the adaptability of floor decks is showcased across diverse settings:
Industrial Spaces: Factories, warehouses, and garages benefit from the efficiency and resilience of floor deck systems.
Commercial Establishments: From commercial houses to showrooms, floor decks provide a robust foundation for various structures.
Entertainment Venues: Restaurants, wedding banquet centers, and movie theaters find stability in floor deck systems for their structural requirements.
Institutional Buildings: Offices, hospitals, and schools leverage the practicality and strength of floor decks.
Residential Developments: Even in housing, including apartments and individual houses, floor decks offer a contemporary and efficient solution for concrete flooring.
Floordeck roll forming machine has many outstanding features, suitable in the mechanical manufacturing industry in Vietnam.
About features
Floordeck roll forming machine automatically shapes and cuts to any length with preset quantity. Workers just need to manipulate on the controller the desired size and press start button to activate the production line. The product will be completed according to the pre-installed size, with high accuracy and low uncertainties.
Floordeck roll forming machine has a smart control system so it can automatically give notice before the order ends. So, the operator does not need to wait till the line is finished. The Automation of the machine helps save costs, keep man work more productive during operation period. The safety factor can highly be achieved during the production process.
The next modern feature of the floordeck roll forming machine is the signal response from the encoder that displays the existing length of the product.
The panel of the Floordeck roll forming machine allows to count the total length of the finished coil. The automatic counting will produce accurate parameters, avoid confusion, save working time, report quickly when the manufacturing process is completed.
Rollers are alloy steels made by precise CNC machines and have hard chromium plating of 45-48HRC.
Floordeck roll forming machine has skd11 steel cutting knife made of CNC machine; the smelter reached 55-60HRC.
Floordeck roll forming machine is installed with hydraulic system and cooling system capable of operating continuously from 20 hours to 22 hours per day. However, customers should not let the machine run continuously for long periods of time to avoid short-burning or shortened life expectancy. Enterprises should regularly maintain the machine so that the machine achieves maximum capacity, long lifespan.
Uncoiler -> Guide -> Pre-cutting -> Roll Forming -> Profile Cutting -> Run-out-product
Specifications Cable Tray Roll Forming Machine
Pump Motor Power 22 -30 kW
Weight 20 – 25 tons
Dimension L = 12 -22m; W = 1.8m; H = 1.9m
Speed rate 12 – 16 meters/min
Cutting system Hydraulic system
Transmission Hydraulic motor
Control system Hydraulic system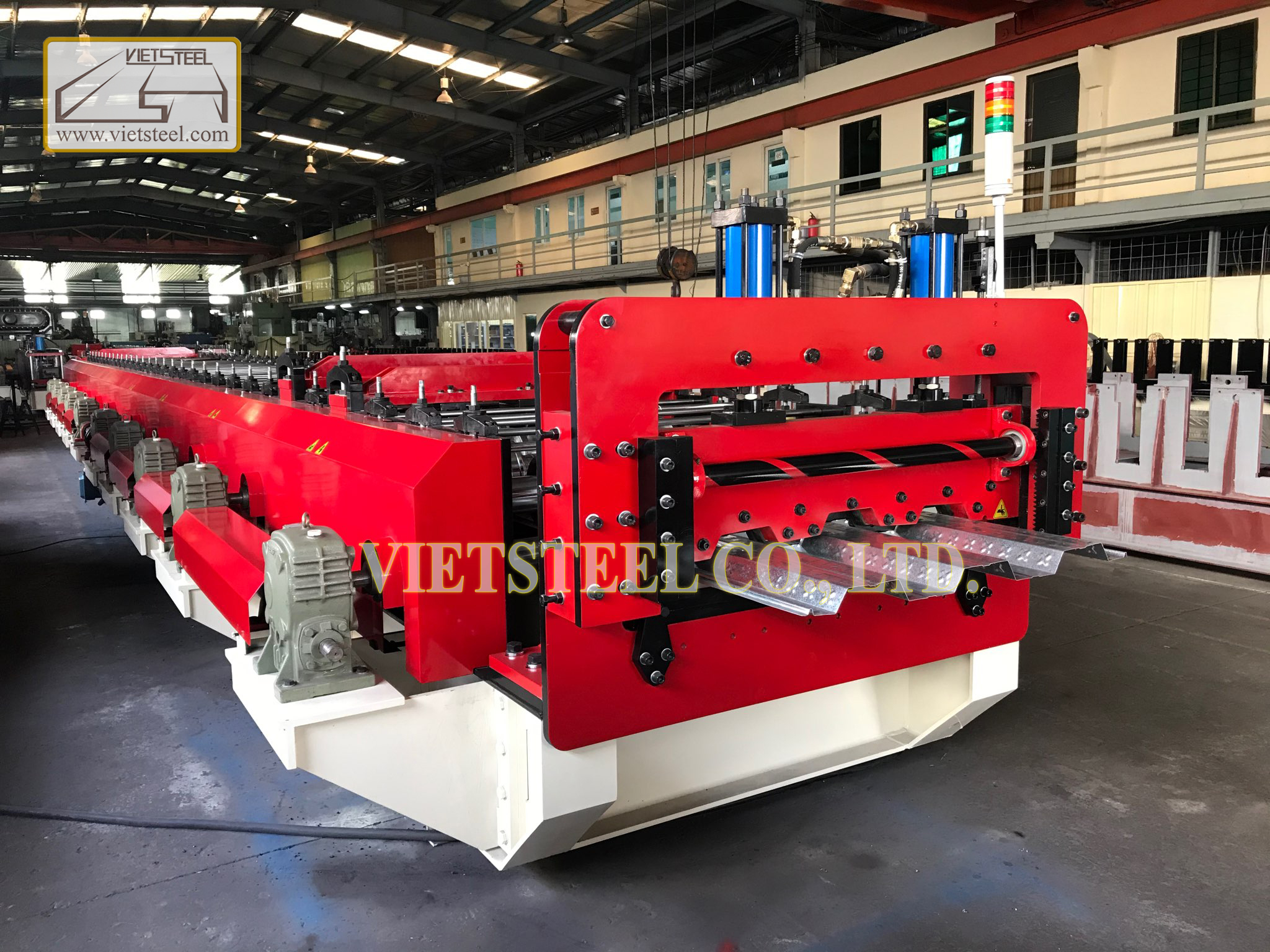 4. Smartframe System Roll Forming Machine
SmartFrame, a technological innovation originating from Australia, offers a comprehensive solution spanning the entire journey from initial design to the actual construction of residential homes.
The SmartFrame solution is a pioneering approach that melds together the disciplines of design, manufacturing, and construction, specifically tailored for light steel buildings. It seeks to replace conventional construction methods, made achievable through the utilization of SmartFrame machines and specialized design software. This holistic solution encompasses a myriad of software tools, platforms, or systems, each designed to streamline various aspects of the construction process. This includes everything from architectural design and engineering calculations to project management and construction planning.
SmartFrame emerges as a transformative technological solution, poised to revolutionize the construction industry, especially in the specialized domain of light steel buildings.
Components: The solution involves two main components: specialized machines and design software.
SmartFrame Machines: These machines play a crucial role in the manufacturing process. They are capable of rolling steel products into the correct shapes and sizes as per the designs and drawings made by the design software.
Design Software: The specialized design software likely enables architects and engineers to create precise designs and drawings for the light steel buildings. These designs are then used by the SmartFrame machines during the manufacturing process.
Uncoiler -> Guide -> Roll Forming -> Dimple -> Swage -> Print -> Shear -> Run-out Product Table
The advantages of smartframe solution
– Non welding, non painting and friendly environment
– High durability, C-truss section used for all frame optimizes the force bearing
– Beautiful, flexible architecture, suitable for a variety of architectures and customer needs
– Fast construct, save 30-50% time to build your house
Power: 20kW
Weight of machine: 5 tons
Dimension: 5.2mx1.6mx1.6m
Forming Speed: 28mpm
Roller station: 7
Material width: 0.6-1.2mm
Roofing roll forming machines have an important role in construction industry. They present high aesthetics characteristics, as well as many advantages to construction works. Moreover, roofing metal sheets are increasingly used in large- and small-scale projects. To get a quality roofing metal sheet per square meter, it is important to consider the design of a roofing roll forming machine.
With Rotary-cut technology, the machine achieves speed up to 60 meters/min. This is a new technology, reaching the highest speed ever of Vietsteel. The quality of the roofing sheet is also rated as the best, the least defective product, a continuous operating frequency of 20-22 hours/day. Components, encoders, engines, control panels … are imported from Japan, Taiwan, and Switzerland.
Roofing Roll Forming Machine automatically laminates and cuts to any length with a preset quantity and alarm to pre-cut before the order finished
Easily count the total length of the finished roll through the control panel
The rollers are alloy steel fabricated by CNC precision machine and hard chromium plated
The cutting die is SKD11 steel fabricated by CNC machine, thermal treatment reaches 55-60HRC.
The hydraulic system is equipped with a cooling system to afford the machine operating continuously from 20 hours to 22 hours per day.
Working Flow Roofing Roll Forming Machine
Uncoiler -> Guide -> Pre-cutting -> Roll Forming Machine -> Profile cutting -> Run-out Product
Power: 7.5-15kW
Weight of machine: 9 -15 tons
Dimension: L = 9-13m; W = 1.5-2m; H = 1.6m
Material thickness: 0.2 – 0.7mm
Advantages of roofing roll forming machines from Vietsteel
After-machining products with uncertainty errors minimized as the precision is almost an absolute figure.
The durability of machines is 15 years with 1 year warranty.
Roll-formed metal sheets can be manufactured in a variety range of thicknesses, colors, and materials in accordance with customers' orders.
Roofing metal sheet production acquires high efficiency.
The cost of a roofing roll forming machine is reasonable. Costings are saved as it does not require as much human resources as before.
Helping businesses save costs of hiring labors and paying for labor insurances.
Our products made from components having reputable and trustful origins with excellence warranty. Vietsteel's team provide consultancy of each machine model suitable with your business situation.
Roll forming machine not only increases productivity but also saves costs for businesses. With advantages such as high rolling speed, high productivity, automation, the machine provides practical benefits:
Ensuring that the roll forming machine is rolled according to customer requirements, thereby increasing customer trust and revenue for the business. The machine can roll sheets of different thicknesses, colors, and materials according to customer orders.
Helping businesses save labor and insurance costs: The cost of a sheet metal rolling machine is reasonable, fully automated, and does not require many labor resources to operate.
Helping businesses save on maintenance and repair costs: If a good quality sheet metal rolling machine is purchased, it can significantly reduce maintenance and repair costs, thereby increasing productivity.
Saving costs leads to reduced prices, increasing competitiveness in the market.
The machine usually runs stably for many years, so businesses do not have to plan for frequent replacement
Pioneered in roll forming machine with 22 years of experience
Delivered 3,500 machines to 420 customers in 41 countries over the world
Vietsteel machines produce products with almost absolute precision.
24/7 professional and fast customer support
The strong financial capacity guarantees on-time delivery on each contract
VIETSTEEL is a reputable company in Vietnam that specializes in designing, manufacturing, and installing a wide range of roll forming machines, including purlin roll forming machines, C truss, bar rolling machines, and slitting machines. They offer list best-selling about 5 lines of roll forming machines, consisting of cable tray roll forming machine, floordeck roll forming machine, U/C/Z Roll Forming Machine,Smartframe Roll Forming Machine, Roofing Roll Forming Machine.
You can contact them through the hotline number +84 906 898 860 or send an email to vietsteel@vietsteel.com to receive detailed pricing and product advice. All kind of roll forming machine depends on your needs and requirements, so you can provide additional information about the size, material, and volume of the product you need to produce to receive the best support from VIETSTEEL."
VIETSTEEL's products are backed by a 1-year warranty and lifetime maintenance, ensuring their customers receive quality products that are long-lasting and reliable. They have a large team of experienced employees, consisting of more than 140 staff members, and operate from two factories, which have a total area of 18,000m2.
In addition, VIETSTEEL has a special processing workshop that spans 2,000m2 and features the latest technology for CNC milling, CNC turning, wire cutting, and more. This ensures that they are able to preserve the quality of all mechanical parts of their machines and guarantee that the machine can run steadily for 15 years.
For more information on VIETSTEEL's products and pricing, interested parties can contact our hotline at +84 906 898 860 or send an email to vietsteel@vietsteel.com.
Other product:
Corrugated Roll Forming Machine
Step tile Roll Forming Machine
Double Deck Roll Forming Machine
Kliplock Roll Forming Machine
Seamlock Roll Forming Machine
Floordeck Roll Forming Machine
V-lock Roll Forming Machine
C truss Roll Forming Machine
Hollow Roll Forming Machine
Batten Roll Forming Machine
Purlin Roll Forming Machine
Cable tray roll forming machine
Uncoiler and Re-coiler