The Industry Efficient Cable Tray Roll Forming Machine is a state-of-the-art solution designed for optimal performance in cable tray production. Engineered to meet the high standards of industrial efficiency, this machine is equipped with advanced features to streamline the roll forming process for cable tray manufacturing.
The cable tray roll forming machine serves the purpose of providing support and safeguarding electrical wires, power cables, communication control, and instrumentation cables.
And we supply Cable tray roll forming machine equipment that is suitably designed for the use of product which can be formed after perforating a partition and other panels.
The tray-type cable tray, a semi-sealed variant closely resembling the slot-type cable tray, features a perforated bottom for effective heat dissipation. Primarily employed for the horizontal or vertical installation of control and communication cables, it is also suitable for power cable equipment. Widely utilized in industries such as petroleum, chemical, light, television, and telecommunications, it boasts advantages like lightweight construction, high load capacity, aesthetically pleasing design, straightforward structure, and easy installation.
It is suitable for both the installation of power cables and the laying of control cables.
The Perforated Cable Tray is a semi-sealed type tray, which is very similar to the slot-type cable tray. Its bottom is punched for heat dissipation. It is mainly used for horizontal or vertical laying of control cables and communication cables. Equipment for power cables.It is the most widely used one in petroleum, chemical industry, light industry, television, telecommunications and so on. It has the advantages of light weight, large load, beautiful appearance, simple structure and convenient installation. It is suitable for both the installation of power cables and the laying of control cables.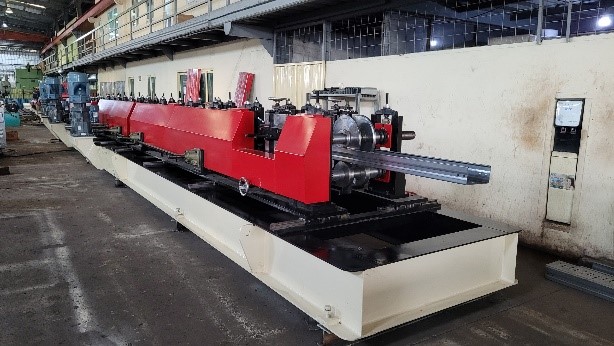 Product introduction Cable Tray
Tray-type cable tray can be used for fully enclosed cable laying. It is most suitable for laying computer cables, communication cables, thermocouple cables and other control cables for highly sensitive systems. It has good effect on the shielding interference of control cables and the protection of cables in heavy corrosive environments. When several groups of cable trays are erected and laid in parallel at the same height, the maintenance and overhaul spacing should be considered between adjacent cable trays.
The installation mainly includes installation along the top plate, horizontal installation along the wall, installation along the shaft, and installation along the ground. Install along cable trenches and pipe supports, etc. The brackets used for installation can be finished products or self-made. The fixing methods of the bracket mainly include welding on embedded iron parts, expansion bolt fixing, etc.
Cable trays are perforated and have a top cover, but they are less commonly used to form enclosed boxes. This makes it easier to repair and adjust wires within the cable tray, and due to the perforations, it is lighter and more cost-effective than trunking.
Typically used for wiring electrical cables from 50 mm2 and above with PVC or PVC/PVC insulation. Electrical cables are often arranged in a single layer to enhance heat dissipation and improve the electrical conduction capabilities of the cables.
Choosing the type of material and the external coating of the cable tray is crucial, especially since most cable trays will be used in outdoor environments. Therefore, it is important to select materials and coatings that are suitable for the environmental conditions of your cable tray system.
Hot-dip galvanized cable trays are versatile and can be used in various climatic conditions, making them commonly employed to protect cables in diverse climate locations.
Cable trays are typically used for indoor applications.
Steel cable trays, with a higher cost, are especially used in the food industry and chemical and oil industries. These cable trays are often protected by a black plastic layer.
Powder-coated cable trays are protected by a layer of paint using traditional spray painting technologies.
The ability of the cable tray system to protect cables depends on the appropriate selection of thickness and height of the cable tray. To choose the suitable type of cable tray, consider the spacing between cable support trays.
Determining the edge height is crucial, and specific dimensions will be outlined in this catalog (50, 75, 100). These dimensions will vary based on the cable tray load to align with the cable support standards of different cable tray types.
Cable routes will be pre-installed (hence, knowledge of construction structures and machinery installation is essential).
Pay attention to any height requirements for the cable tray to align with the total cable load.
The height and width of the cable tray need to suit the load of the selected cable type.
Choosing the right size of cable tray is vital. Different types of cable trays will have varying widths. If necessary, accurately determine the width of the cable tray that suits cable management.
Finally, consider the cable bend radius, usually using the minimum allowable cable bend radius.
Currently, in the Vietnamese market, cable trays are widely used in various large-scale construction projects such as residential buildings, hospitals, schools, and supermarkets. However, some people may still have questions and concerns about the concept of cable trays.
✔ High-rise buildings
Cable trays are used to route cables and conduits within high-rise buildings.
This type of tray ensures everything is safe, neat, and facilitates easy installation and maintenance.
✔ Manufacturing plants, power plants
This type of cable tray aids in efficient wiring and cable distribution, reducing the risk of fire and explosion due to electrical faults.
Supports air conditioning to keep cables and conduits in a safe position, avoiding damage.
Can be used in security and wastewater treatment systems, making cable and equipment management easier.
✔ Information/communication systems
Cable trays help secure and protect network cables, including fiber optic, Ethernet, and copper cables in computer network systems.
Safeguard telecommunication, surveillance, security, sound, and light systems, preventing damage from risks such as electrical faults, explosions, and impacts. It also helps manage cables conveniently.
✔ HVAC systems
Cable trays help secure cables and conduits safely, preventing damage and facilitating convenient and simple management.
This type of tray is applied in HVAC systems, including air conditioning, ventilation, water pumps, and water tanks, as well as water conduits.
✔ Chemical plants
In addition to the above applications, cable trays are used in chemical plants.
This equipment is commonly used in electrical, control and automation systems, information systems, pipe conduits, pumps/valves.
In general, using cable trays helps maintain durable, tidy, and long-lasting cable systems. It also makes installation and maintenance processes easy, saving considerable space and time.
Considerations when buying an effective cable tray
Cable trays are used in different environmental conditions, meeting the requirements for internal heat dissipation. However, this type still ensures durability and cleanliness. Depending on the environmental conditions, the surface is usually treated with various methods.
Items
CB-EM Model
Power
– Transmission: 22kw
– Motor – Pump: 22kw
Weight of machine
30 tons
Dimension
L=14m;W=2.0m; H=1.8m
Forming Speed
1-6mpm
Roller stations
24
Transmission system
Electricmotor andGearbox
Cutting and Punching system
Hydraulic cylinder
Control system
PLC, HMI automatic programmable
Changing size
By screw
Material thickness
0.8 – 2 mm
Material width max
820mm
Material Yield Strength
G450 – G550 Mpa
Name
CB-EM Model
PLC
SIEMENS – Germany
Touch panel
SIEMENS – Germany
Encoders
KUBLER – Germany
Inverter
YASKAWA – Japan
Electric motor
TOSHIBA – Japan
Servo motor
Hydraulic components
YUKEN – Japan
Cutting dies SKD11
Japan
Rollers
Alloy steel
Gear box
Taiwan
Cable tray Roll Forming Machine
| | | | |
| --- | --- | --- | --- |
| SIZE | A | B | C |
| C100 | 100 | 50 | 15 |
| C150 | 150 | 50-75-100 | 15 |
| C200 | 200 | 50-75-100 | 15 |
| C250 | 250 | 50-75-100 | 15 |
| C300 | 300 | 50-75-100 | 15 |
| C350 | 350 | 50-75-100 | 15 |
| C400 | 400 | 50-75-100 | 15 |
| C450 | 450 | 50-75-100 | 15 |
| C500 | 500 | 50-75-100 | 15 |
| C550 | 550 | 50-75-100 | 15 |
| C600 | 600 | 50-75-100 | 15 |
Q&A about Our Cable Tray Roll Forming Machines
Experience in Cable Tray Production:
What's your track record in manufacturing cable tray roll forming machines?
Could you share some notable projects or countries you've exported your cable tray production line to?
Versatility in Production:
Can a single production line be used for both cable tray and tray cover manufacturing?
How streamlined is the change operation, and how does it contribute to cost and time efficiency?
Answer:
We have exported cable tray production line to Australia, Pakistan, Malaysia, Indonesia, Vietnam. We have produced perforated cable tray, CT cable tray, ladder cable tray and etc. We are confident to solve your cable tray problem.
Delivery Time:
What is the typical delivery time for a cable tray machine, and how does it vary based on client specifications?
Answers: 120 days to 150 days depends on your drawing.
Machine Speed and Customization:
How do you determine the machine's working speed, especially concerning punch drawings?
Can clients request specific speeds, and how do you accommodate these customizations?
Answers: Machine's working speed depends on drawing specially punch drawing. Normally forming speed is around 20m/min. Please send us your drawing and let us know your required speed, we would customize it for you.
Precision and Quality Control:
What measures do you take to ensure the precision and quality of your machines?
Answers: Our secret to producing such precision is that our factory has its own production line, from punching moulds to forming rollers, each mechanical part is completed independently by our factory self. We strictly control the accuracy at each step from design, processing, assembling to quality control, we refuse to cut corners.
After-Sales Service Commitment:
What does your after-sales service system entail, particularly in terms of warranty and support?
How do you handle quality issues, and what level of assistance can clients expect throughout the warranty period?
We don't hesitate to give you a years warranty period for whole lines. If there will be any quality problems caused by non-human factors, we will handle it immediately for you and we will be ready for you 24/7H. One purchase, lifetime care for you.
Link more information Cable Tray Roll Forming Machine at here
Hotline: +84 906 898 860 – Email: vietsteel@vietsteel.com – Website: www.vietsteel.com