With the development of technology in the industrial manufacturing sector today, products such as sheet metal rolling machines are also being upgraded and manufactured with increasingly advanced technology to improve product quality and reduce costs for investors. Creating and using these types of machines to minimize the number of manual laborers is also becoming more and more popular. One of these machines that must be mentioned is the Purlin roll forming machine, with the benefits it brings to users.
1. What is Purlin Roll Forming Machine?
The Automatic Purlin rolling machine is a metalworking machine used to shape metal, such as steel billets, into desired Purlin shapes. There are many types of purlin roll forming machines available in the market, and each type of purling has a different shape depending on its intended use.
The purlin roll forming machine can roll various types of I-beams such as C/Z/U/I steel. Vietsteel's purlin roll forming machine has a high rolling speed and productivity, which can save labor and cost for business owners, leading to reduced prices and increased competitiveness in the market.
2. Types of purlin roll forming machines
Currently, purlins are commonly made of aluminum-zinc alloy-coated steel. They are divided into different types such as C, U, I, and Z purlins, and the selection depends on the specific construction requirements. C and Z purlins are the most commonly used.
*** C and Z Purlins
C and Z purlins are beams or horizontal members used to support structures in C and Z-shaped buildings. The C Z Purlin Roll Forming Machine is a roll-forming machine used to produce C or Z-shaped steel. In the construction industry, the term "purlin" refers to parallel roof framing members that support roof or roof deck panels. C-shaped steel purlins are commonly used to support roofs or walls.
Vietsteel provides C and Z purlin roll forming machines that can automatically adjust the size and shape.
*** U and G Purlins
As roll-forming technology has advanced, there are now machines that can produce U and G-shaped steel with different sizes.
3. Advantages of purlin roll forming machine
As one of the most popular steel manufacturing machines, the purlin roll forming machine offers many outstanding advantages for businesses:
Fully automated operation with a control system to create the desired specifications of the user, and can switch specifications completely automatically, making operation convenient and quick.
The machine has diverse rolling speeds, high efficiency, and nearly absolute precision in a short time, allowing businesses to save time and still achieve the desired results.
The cost of the purlin rolling machine is reasonable and fully automated, reducing the workload of the operators compared to previous versions that required at least one operator. The quality of the product is still guaranteed. This helps businesses save labor costs.
The machine provides high productivity, producing more products in a shorter time.
The machine helps save labor force by automating the process.
Low cost and price due to not requiring too many workers, while still maintaining quality and productivity, thereby generating revenue for the business.
The components are imported from Germany, Japan, Taiwan, and Switzerland, ensuring the quality and durability of the machine.
Automatically rolls and cuts to any length with a preset quantity, and automatically alerts when the order is finished.
The hydraulic system is equipped with a cooling system capable of continuous operation for 20 to 22 hours per day.
The machine has a long service life, operates continuously for 15 years with a one-year warranty, helping businesses reduce the cost of replacement while still maintaining stable quality for the final product.
Fully automatic purlin rolling machine. Many options are available for investors to balance costs. The most optimal investment level will save labor, improve efficiency, and be able to roll thick and hard materials such as stainless steel blanks.
4. Technology Data
Forming speed: Transmission: 2x15kw – 1/30 1×7.5kw – 1/30
Motor – pump: 11kw – 45cc
Size changed: 3×1.5kw – 1/25
Punch table: 2×1.5kw
Weight of machine: 28 tons
Dimension: L=16m; W=2.5m; H=2m
Forming speed: 16 – 20 meters/ minute
*** The machine is equipped with high-quality components, such as:
PLC and touch panel from SIEMENS, Germany or DELTA, Taiwan
Encoders from KUBLER, Germany or DELTA, Taiwan
Electric motor from TOSHIBA, Japan or ABB, Switzerland
Hydraulic components from YUKEN, Japan
Cutting die made of SKD11 steel and fabricated by CNC precision machine, with heat treatment achieving 52-58HRC
Rollers made of C45 steel and fabricated by CNC precision machine, with hard chromium plating and an optional heat treatment.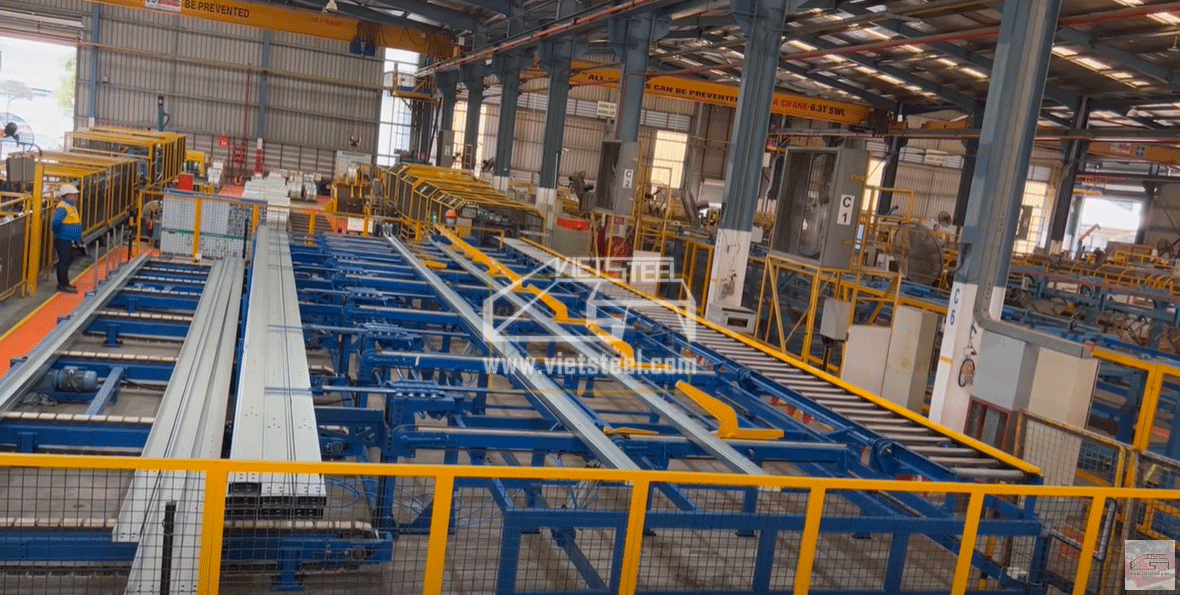 5. Auto Stacker Table For C Purlin Roll Forming Machine
Features:
Automatically arrange C-purlin sections into units according to pre-defined specifications, replacing human labor.
Automatically arrange C-purlins with specifications from C100 to C400, lengths from 1.8m to 14m, and unit load capacity up to 4 tons.
Automatic pushing system: With the pushing system to push the front surface from the conveyor to the receiving table.
Control system: Control linked to the main machine.
Video about Auto Stacker Table C Purlin Roll Forming Machine: click here
6. Quotation for Auto Stacker Table C For Purlin
VIETSTEEL is known as a leading expert in Vietnam in designing, manufacturing and installing all lines of roll forming machine, purlin roll forming machine, Ctruss bar rolling machine, slitting machine, etc. We provide to the market 4 lines of double deck roll forming machines with 8 different models at reasonable prices. Our products come with 1-year warranty and lifetime maintenance.
Our staff are more than 140 experienced employees, and we have 2 factories (18,000m2), a special processing workshop (2,000m2) with the latest technology for CNC milling, CNC turning, wire cutting… We preserve our quality for all mechanical parts of the machine, we ensure the machine to run steadily for 15 years.
For a more detailed quotation, please contact hotline +84 906 898 860 or send information to email vietsteel@vietsteel.com.